LEAFS - Licensing Electronic Asset File System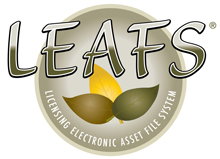 We created our proprietary Licensing Electronic Asset File System (LEAFS) to save you time while together we build a smartly branded lottery game. Many routine tasks, from concept stage through approval, are easily managed via this browser-based application. When it comes to visualizing the nuances of the process - from brand-usage guidelines to artwork to ticket design and beyond - LEAFS is unlike any system of its kind.
Login Here:
More about LEAFS
Online, you can gather background information about each of the brands we work with and preview approved designs. All licensor guidelines and image libraries are available for easy download, eliminating the usual delays involved in shipping CD libraries. As soon as artwork designs are ready, they can be uploaded for quick access and licensor review.

LEAFS keeps an accurate log of all product, advertising, and promotion designs. This collaborative system tracks the process step-by-step, capturing user comments and notifying users via e-mail of any change in status, deftly keeping the project on track for production.